Software Info:
uuProxyAuto Proxy Server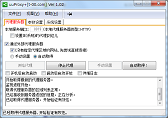 uuProxyAuto Completely free fast proxy server software.
It supports a variety of network services, such as HTTP/HTTPS, FTP, TELNET, EMAIL, etc.
Only with a shared IP address then multiple users can access the Internet through it.
Especially for small office(SOHO). Economic, efficient and convenient.
It supports proxy servers cascade.
Support Win2000, Windows XP, Windows 7 or above.
Registered members can enjoy unlimited automatically obtain the IP address of the proxy server service.
No need to install, pure green software, does not contain any adware, ensure clean and virus-free. You can
download
it immediately!